Fiala lectures widely and provides workshops on ethics and other topics.
To invite Fiala: professorfiala@gmail.com
Osher Lifelong Learning Class: "Religion and Philosophy"
Osher Lifelong Learning Class: "Compassion"
TUESDAYS | April 6, 13, 20, 27 3 – 4:30 p.m. 
Dr. Fiala will consider the virtue of compassion. Based upon ideas he is developing in a new book on the topic, Fiala will look at the role of compassion in religious and philosophical traditions. He will lead participants in a discussion of the importance of compassion in the contemporary world. The course will consider the limits of compassion as well as how compassion is related to other emotions and values, such as kindness, benevolence, empathy, and love.
Osher Catalogue Information here: http://fresnostate.edu/cge/olli/documents/OLLI%20Spring%2021%20Catalog.pdf.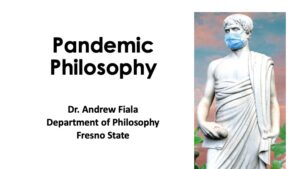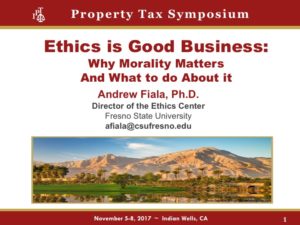 Podcasts on "The Meaning of Peace and Pacifism:
Part One: https://dokeo.edconroy.co.uk/podcast/the-meaning-of-peace-pacifism-part-one/
Part Two: https://dokeo.edconroy.co.uk/podcast/the-meaning-of-peace-pacifism-part-two/
"Compassion" Osher LifelongLearning, April 2021
"Compassion: Ethics, Religion, and Philosophy," Smittcamp Colloquium, April 2021
Future of Democracy, March 2021, Oakhurst Democratic Club
Fiala Ethical Leadership and Professional Life Welty Center Conference, February 2021: Video here: https://www.youtube.com/watch?v=tYmdoFli2U0
Critical Thinking Contentious Times, San Joaquin Gardens January 2021
Pandemic Philosophy, Osher Lifelong Learning, September 2020
"Religion and Covid-19" on Freedom From Religion Foundation, May 27, 2020
"Pacifism and Nonviolence" Bethel Lutheran Church, Cupertino, CA, November 2019
"Ethical Leadership and Professional Life" Welty Center Educational Leadership Conference, October 2019
"American Values and Philosophy" Osher Lifelong Learning, October 2019
"Ethical Leadership" Camp Royal Youth Leadership Camp (Rotary), Sequoia Lake, CA, June 10, 2019
"Ethics and Civic Education" Democratic Women in Action, Fresno, CA:, 

June 3, 2019

"Peace, Pacifism, and Nonviolence"

 Westhope Presbyterian Church, Saratoga, CA, May 26, 2019

"The Lifeboat is Not Full: Also It's not a Lifeboat" 

Immigration Podcast with Nathan Brown:  http://www.thecaseforimmigration.com/episodes, 

May 2019 (recorded April 29, 2019)

"Teaching Moral Conflict and Civil Discourse" Bonner Center Character and Civic Education Conference, April 5, 2019
"Bioethics" Osher Lifelong Learning, April 2019
"Pacifism as Normative Theory" at Association for Practical and Professional Ethic, Baltimore, MD, February/March 2019.
"Ethics and Civic Education" at Fig Garden Women's Club, February 2019
"Crisis in Democracy and Solutions" Yosemite Democratic Club, February 2019
"Civic Education and Education for Democracy" at Fresno Rotary, December 2018
"Secularism and Religious Diversity" at California State University, Bakersfield, November 2018
"Making Ethical Decisions" for Fresno High School International Baccalaureate Program, November 2018 (video)
"Peace, Pluralism, Religion, and Secularism" at Parliament of the World's Religions, Toronto, Canada, November 2018
"The Global Ethic Applied to Refugees and Immigrants" at Parliament of the World's Religions, Toronto, Canada, November 2018
"Pacific Commerce and the Capitalist Peace" at Concerned Philosophers for Peace, Boulder, CO, October 2018
"Peace as a Way of Life" Via de Cristo Christian Community, Scottsdale, AZ September 2018.
"Peace and Medical Ethics" at Estrella Mountain College, Phoenix, AZ, September 2018.
"Ethics and Economic Development" for California Association of Local Economic Development, October 2018
"From Empathy to Justice and Back Again" at Unitarian Universalist Church of Fresno, July 2018
"On Thinking Globally and Acting Locally:" at International Society for Universal Dialogue, Lima, Peru, July 2018
"Ethics for Youth Leaders" at Rotary Youth Leadership Camp, Sequoia Lakes, CA, June 2018
"Capitalism and Ethics" for Reedley Peace Center retreat, Saint Nicholas Ranch, Squaw Valley, CA, March 2018
"The Philosophy of War and Peace" at Osher Lifelong Learning Institute, February-March 2018
"Pacifism: For and Against" an Invited Symposium, 2018 American Philosophical Association Central Division, Chicago, February 2018.
"Free Speech and the First Amendment" at Free Speech Forum, Fresno State University, October 2017
"Political Violence in the Trump Era" at Fresno County Kennedy Club, September 2017
"Character" at University High School Character and Honor Code Assembly October 2017
"Wisdom and the Good Life" at Osher Lifelong Learning Institute, November-December 2017
"Ethics is Good Business: Why Morality Matters and What to Do About It" at Institute for Tax Professionals, Indian Wells, CA, November 2017
"Peace in the Trump Era" at SUNY Cortland, April 2017.
 "Seven Deadly Sins, Vainglory, and Humility" at Fresno Pacific University, March 2017
"The Ethical State of the Union" Osher Lifelong Learning Institute, March 2017.
 "The Five Freedoms of the First Amendment" Symposium on the First Amendment, November 2016.
"Philosophy, Democracy, and Utopia" Osher Lifelong Learning Institute October 2016
"Whose God? Which Religion" at Centenary College of Louisiana, Forum, Shreveport Louisiana, February 2016
VIDEO LINKS
Fiala in Warsaw, July 2016
Contemporary Conflicts of Morals
Osher Lectures on Love