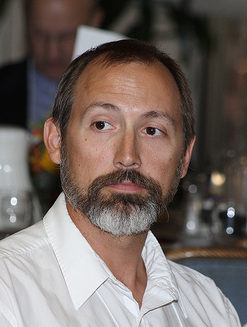 Can War Be Justified?
Tyranny from Plato to Trump
Compassion
Simplicity
Nonviolence
Seeking Common Ground: Atheist/Theist Dialogue
Ethics: Theory and Contemporary Issues
Transformative Pacifism
The Routledge Handbook of Pacifism and Nonviolence
Secular Cosmopolitanism
Etc…
In this book, Andrew Fiala and Jennifer Kling debate the question of whether war can be justified, drawing on contemporary scholarship and new developments in thinking about pacifism and just war theory. Fiala defends the pacifist position, while Kling defends just war traditions. Fiala argues that pacifism follows from the awful reality of war and the nonviolent goal of building a more just and peaceful world. Kling argues that war is sometimes justified when it is a last-ditch, necessary effort to defend people and their communities from utter destruction and death.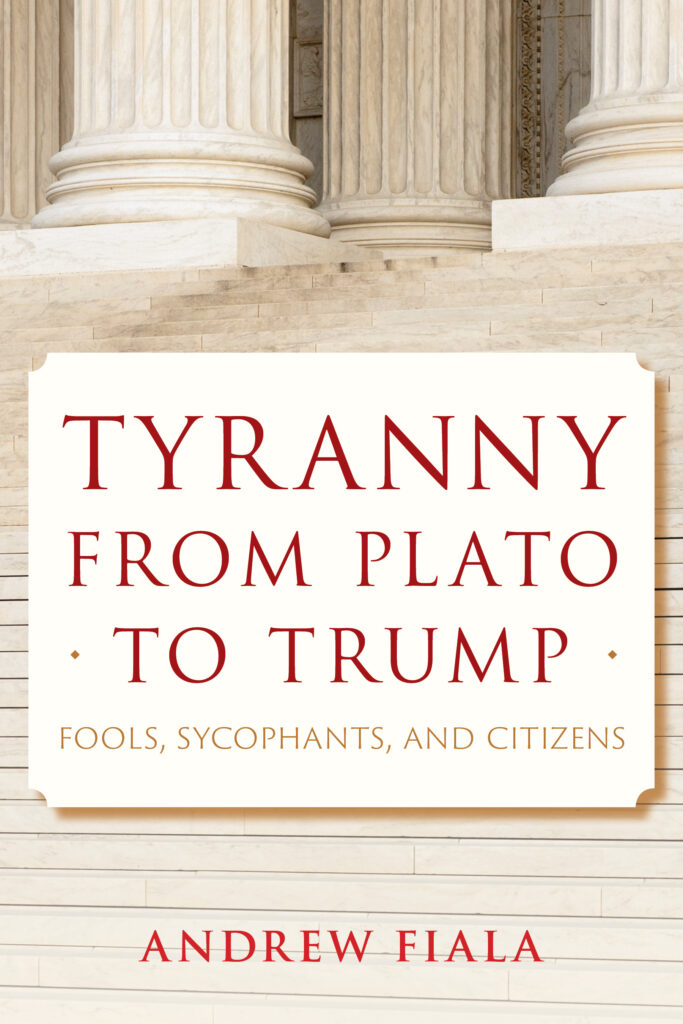 Ancient Greek philosophers warned us that tragedy unfolds in the absence of reason. The cure is a return to wisdom and virtue. America's founding fathers knew this lesson and dreamed of an enlightened citizenry guided by virtuous leaders.
Using contemporary events to illuminate universal human weaknesses, Fiala charts the perennial history of tyranny.
Fiala also points to a solution. Knowing the cyclical nature of tyranny, we can build safeguards against our worst inclinations.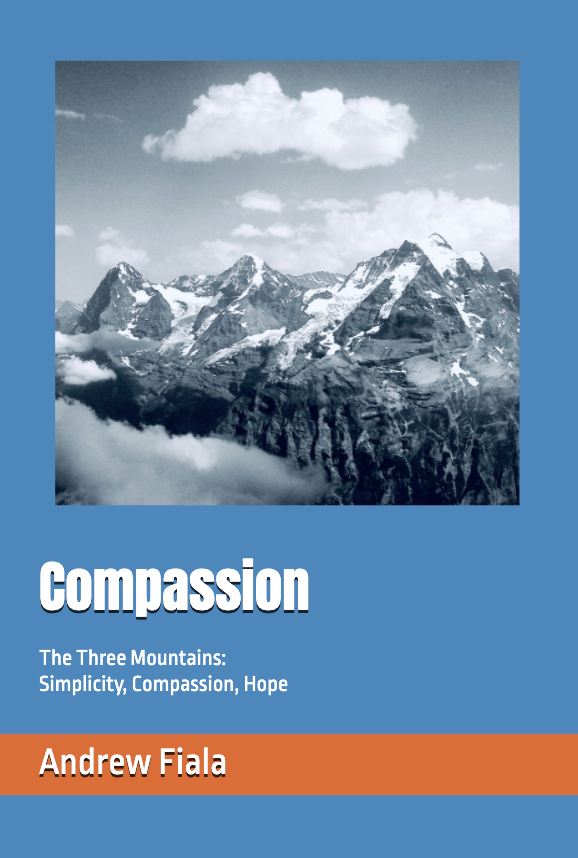 Compassion 

Volume 2 of The Three Mountains
This book follows the trail of compassion. It offers poetic insight, stunning photography, and the wisdom of ancient philosophy. The book reflects on the meaning of compassion in a world that contains both beauty and suffering. It will provoke, invigorate, and make you wonder.
Compassion is the second volume of Andrew Fiala's Three Mountains trilogy. It weaves spiritual teachings together with folktales and natural history in a way that surprises and inspires. Fiala shows that compassion involves laughter, chaos, tears, and joy. Compassion is about overflowing and becoming broader.
Available in three formats: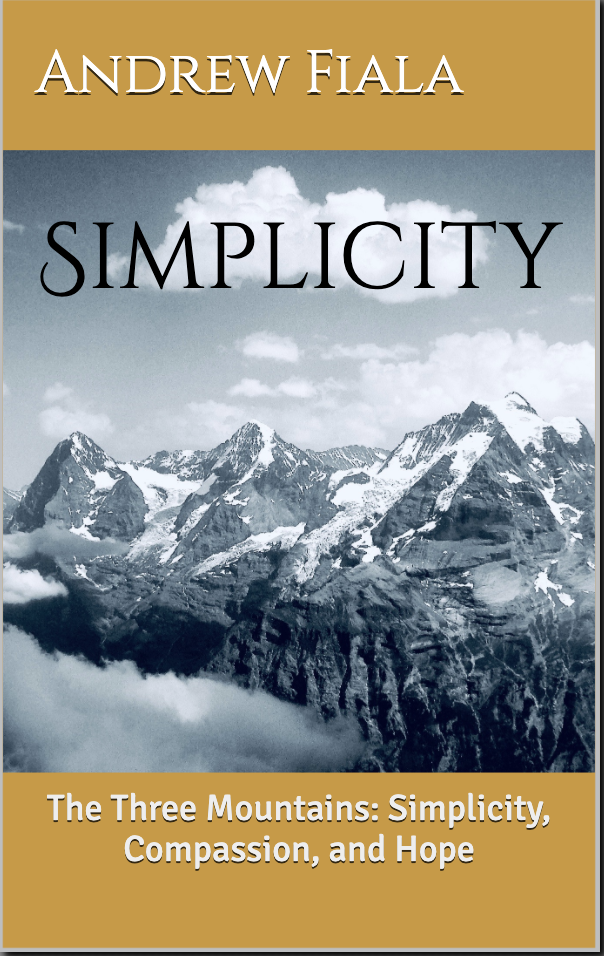 Simplicity

Volume 1 of The Three Mountains
This book offers wisdom on the path toward simplicity. The book features original photography taken in Yosemite, Sequoia, King's Canyon, and other wonderlands. Take this book with you on the trail or wherever you wander, wonder, and play
Andrew Fiala describes three mountains we must climb, the mountains of simplicity, compassion, and hope. The book is full of beautiful photography and inspiring words. It will provoke, invigorate, and make you wonder. Conceived while backpacking the John Muir Trail through the mountains of California, the book reminds us of the complex history of nature's wonderlands. It encourages us to learn the simple lesson of a well-tended fire, a quiet stream, and a place to call home. Fiala weaves a rainbow of wisdom discovered on the trail with Socrates, Jesus and Lao Tzu. It follows in the footsteps of authors such as: Henry David Thoreau, John Muir, and Gary Snyder.
Available in Three Formats: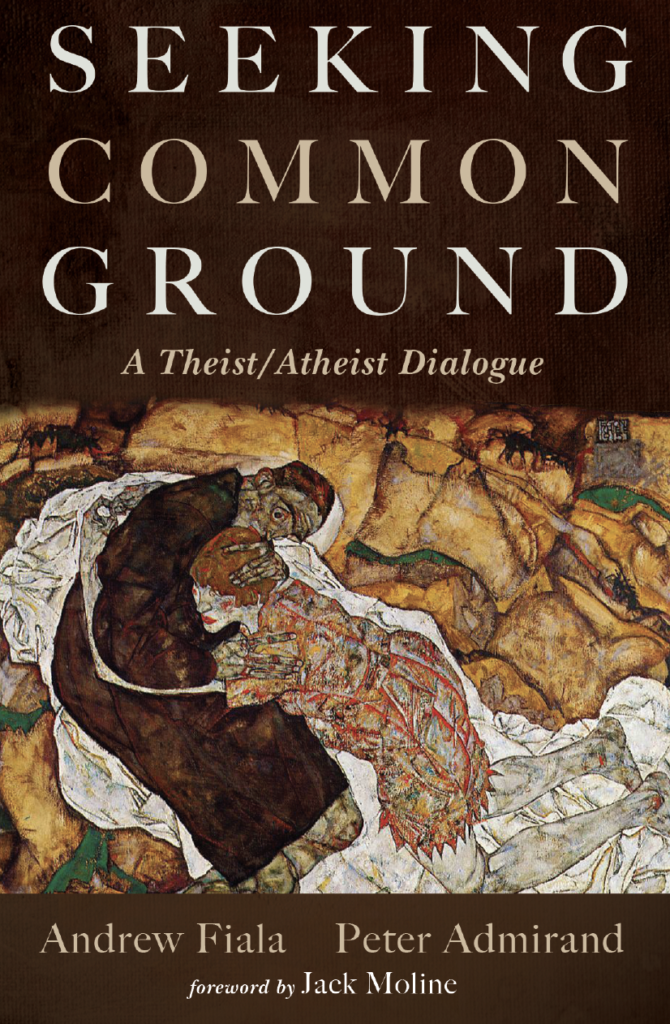 Seeking Common Ground is a dialogue between an atheist philosopher and a Catholic theologian. It is about religion and nonreligion, as well as about dialogue itself. The book provides a framework for dialogue grounded in seven key values: Harmony, Courage, Humility, Curiosity, Honesty, Compassion, and Honor. Unlike typical "debates" about religion and atheism, the book shows that atheists and theists can work together on projects of mutual understanding. Andrew Fiala and Peter Admirand discuss a range of sources, topics, issues and concerns, including: adventures in interfaith dialogue, challenging ethical issues, problems interpreting Biblical texts, the growth of secularism, and the importance of ritual and community. The authors show that it is possible to disagree about religion, while also seeking common ground. The book includes a foreword by Rabbi Jack Moline, President of the U.S. Interfaith Alliance.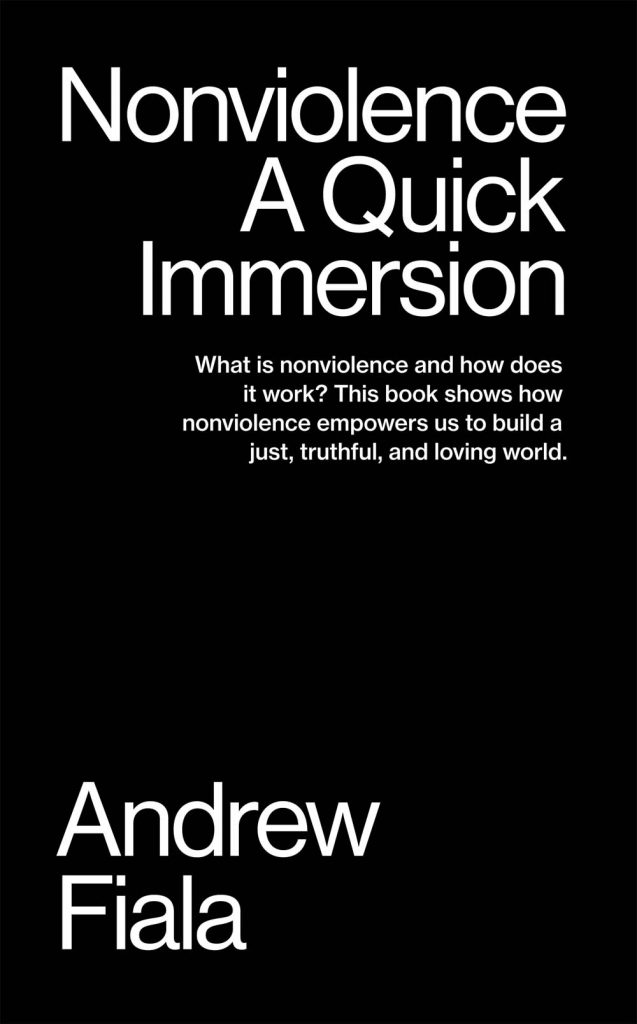 Nonviolence
A Quick Immersion
What is nonviolence and how does it work?
This book provides an overview of nonviolence. It offers answers to the questions of what nonviolence is, how and why it ought to be used, and who ought to employ it. The book discusses examples of successful nonviolent social protest, from twentieth century movements for civil rights and colonial liberation to the Arab Spring and contemporary Black Lives Matter protests, and considers recent research that explains the power of nonviolence. It also explores philosophical and religious sources of nonviolence, while discussing key historical figures including Leo Tolstoy, Mohandas K. Gandhi, Martin Luther King Jr., Desmond Tutu, the Dalai Lama, and Malala Yousafzai. This book offers insight into the link between nonviolence and democracy. It reminds us that nonviolence gives us the power to build a better —more just, truthful, and loving— world.
---
Ethics: Theory and Contemporary Issues 9th Edition (co-authored with Barbara MacKinnon since) is a widely used textbook that includes chapters on both ethical theory and a wide range of contemporary ethical issues. Clear and accessible summaries of ethical theories and moral issues provide a detailed overview of influential arguments and positions. Updated discussions of relevant cases and controversies place philosophical concepts in the context of current news events. This book introduces traditional ethics as developed in the European tradition while emphasizing a range of cultural, gender, racial, and international perspectives./ Chapters open with vignettes illustrating the real-world stakes of contemporary moral issues or recent news stories that capture students' interest and direct their attention to the philosophical discussion that follows. The text features a wide range of readings from influential ethicists and philosophers. Study questions at the beginning of each reading help students focus and become engaged with the content. Review Exercises at the end of each chapter also can serve as test or exam questions. Discussion cases, following each applied ethics chapter, encourage students to consider the personal stakes of moral problems and generate classroom discussion. Chapters emphasize: non-Western ethics; religion and global ethics; socio-biology and naturalistic ethics; physician-assisted suicide and euthanasia; economic inequality; immigration; racial profiling; restorative justice; ethical vegetarianism; trans-humanism and biotechnological advances; critiques of war; and globalization. 9th edition includes xpanded discussion of feminism and contemporary political issues affecting women — connected with updated material about gay marriage, transgender issues, discrimination. Continued emphasis on pedagogical tools including: clearly articulated learning outcomes; study and review questions; an extensive glossary of key terms; and diagrams and tables.
Ninth edition published in 2017.
---
Defending pacifism against the charge that it is naïvely utopian, Transformative Pacifism (Bloomsbury 2018) offers a critical theory of the existing world order, and points in the direction of concrete ethical and political action.
Pacifism is a transformative philosophy with wide ranging implications. It aims to transform political, social, and psychological structures. Its focus is deep and wide. It is similar to other transformative social theories: feminism, ecology, animal welfare, cosmopolitanism, human rights theory. Indeed, behind those theories is often the pacifist idea that violence, power, and domination are wrong. Pacifist theory raises consciousness about unjustifiable violence. This in turn leads to transformations in practical life. Many other books defend nonviolence and pacifism by focusing on failed justifications of war, as well as on the strategic value of nonviolence. This book begins by reviewing and accepting those sort of arguments. It then focuses on what a commitment to pacifism and nonviolence means in terms of a variety of practical issues. Pacifists reject the violent presuppositions of a society based upon power, strength, nationalism, and the system of militarized nation-states. Pacifism transforms psychological, social, political, and economic life.
This book will be of interest to those who are disenchanted with ongoing violence, violent rhetoric, terrorism, wars, and the war industry. It gives anyone with pacifist sympathies reassurance: pacifists are not wrong to think that violence and war are immoral, irrational, and insane and that there is always an alternative. Flier TRANSFORMATIVE PACIFISM by Andrew Fiala
---
The Routledge Handbook of Pacifism and Nonviolence (2017) is the definitive collection of essays on pacifism and nonviolence. Edited with an introduction and chapter by Andrew Fiala, this collection includes dozens of articles by leading scholars. Interest in pacifism—an idea with a long history in philosophical thought and in several religious traditions—is growing. The Routledge Handbook of Pacifism and Nonviolence is the first comprehensive reference designed to introduce newcomers and researchers to the many varieties of pacifism and nonviolence, to their history and philosophy, and to pacifism's most serious critiques. The volume offers 32 brand new chapters from the world's leading experts across a diverse range of fields, who together provide a broad discussion of pacifism and nonviolence in connection with virtue ethics, capital punishment, animal ethics, ecology, queer theory, and feminism, among other areas. This Handbook is divided into four sections: (1) Historical and Tradition-Specific Considerations, (2) Conceptual and Moral Considerations, (3) Social and Political Considerations, and (4) Applications. It concludes with an Afterword by James Lawson, one of the icons of the nonviolent American Civil Rights movement. The text will be invaluable to scholars and students, as well as to activists and general readers interested in peace, nonviolence, and critical perspectives on war and violence.
---
Secular Cosmopolitanism, Hospitality, and Religious Pluralism (2016) explores the idea of religious pluralism while defending the norms of secular cosmopolitanism, which include liberty, tolerance, civility, and hospitality. The secular cosmopolitan ideal requires us to be more tolerant and more hospitable toward religious believers and non-believers from diverse traditions in our religiously pluralistic world. Some have argued that the world's religions can be united around a common core. This book argues that it is both impossible and inadvisable either to reduce religion to one thing or to deny religion. Instead, the book affirms non reductive pluralism and seeks to understand how we should live in a pluralistic world.
Building on work in the sociology of religion and philosophy of religion, the book examines the grown of religious diversity (and the spread of nonreligion) in the contemporary world. It argues that religious toleration, hospitality, and compassion must be extended in a global direction. Secular cosmopolitanism recognizes that each person has a right to his or her deepest beliefs and that the diversity of the world's religious and non-religious traditions cannot be reduced or eliminated.
---
The Bloomsbury Companion to Political Philosophy, edited by Andrew Fiala (2015) is the definitive guide to contemporary political philosophy. The book covers all the most pressing and important themes and categories in the field – areas that have continued to attract interest historically as well as topics that have emerged more recently as active areas of research. Fourteen specially commissioned essays from an international team of experts, including Eduardo Mendieta and Gillian Brock, reveal where important work continues to be done in the area and, most valuably, the exciting new directions the field is taking. The Companion explores a range of issues from the nature and history of political philosophy, sovereignty, distributive justice, democratic theory, feminist theory, to toleration, human rights, immigration, cosmopolitanism, peace, war, and the challenge of Eurocentrism in political philosophy. Featuring a series of indispensable research tools, including an A to Z of key terms and concepts, a chronology, a detailed list of resources, and a fully annotated bibliography, this is the essential reference tool for anyone researching or working in political philosophy.
---
The Peace of Nature and the Nature of Peace (2015) is a collection of philosophical essays edited by Andrew Fiala, based upon papers that were given by members of Concerned Philosophers for Peace at a conference held in Yosemite Valley in 2013. The collected essays provide critical reflection on nonviolence, ecology, environmental ethics, and the philosophy of peace. This book includes essays written by important scholars in the field of peace studies, pacifism, and nonviolence, including Michael Allen Fox, Andrew Fitz-Gibbon, Bill Gay, and others. Topics include: ecological consciousness and nonviolence, environmental activism and peace activism, the environmental impact of militarism, native and indigenous peoples and peace, food ethics and nonviolence, and other topics. The introductory essay by Andrew Fiala examines links between environmental movements, peace philosophy, and nonviolent activism.
---
In Against Religion, Wars, and States: The Case for Enlightenment Atheism, Just War Pacifism, and Liberal-Democratic Anarchism (2013) Andrew Fiala argues that, societally, we must radically redefine our goals. A renewed focus on global justice, a heightened criticism of religion and a fuller embrace of enlightened humanism and the sciences are just some of the ways in which we can begin to address some of the problems endemic to our society, and ultimately bring about more lasting peace. Fiala argues both theoretically and empirically, moving from analyses of theology, ethics and political philosophy to case studies and data mined from these respective disciplines, and from the fallout of recent world events involving all three. Fiala attempts to wean us off of our deferral to the oppressive forces that spark movements like Occupy, and the Arab Spring, forces that manifest themselves in the brutal drug wars along our borders, and in the currently fractious and bigoted rhetoric of some of our most powerful political and religious leaders. Against Religion, Wars, and States provides a provocative, unified, and revolutionary critical theory for all who are skeptical of the religious, political, and military powers that be, and points the way towards a more peaceful, just and reasoned future.
---
Civility, Religious Pluralism, and Education (2013, co-Edited with Vincent Biondo) focuses on the problem of religious diversity, civil dialogue, and religion education in public schools, exploring the ways in which atheists, secularists, fundamentalists, and mainstream religionists come together in the public sphere, examining how civil discourse about religion fits within the ideals of the American political and pedagogical systems and how religious studies education can help to foster civility and toleration. The book grew out of a project funded by the National Endowment for the Humanities. Contributing authors include Vincent Biondo, Bruce Grelle, Charles Haynes, and Diane Moore.
---
Public War, Private Conscience (2010) offers a philosophical reflection on the moral demands made upon us by war, providing a clear and accessible overview of the different ways of thinking about war. Engaging with contemporary examples and historical ideas about war, the book offers unique analysis of issues relating to terrorism, conscience objection, just war theory and pacifism. Andrew Fiala examines the conflict between utilitarian and deontological points of view. On the one hand, wars are part of the project of public welfare, subject to utilitarian evaluation. On the other hand, war is also subject to deontological judgment that takes seriously the importance of private conscience and human rights. This book argues that the conflict between these divergent approaches is unavoidable. We are continually caught in the tragic conflict between these two values: public happiness and private morality. It is in war that we find the conflict at its most obvious and most disturbing.
---
In The Just War Myth: The Moral Illusions of War (2008), Andrew Fiala argues that while the just war theory is a good theory, actual wars do not live up to its standards. The book provides a genealogy of the just war idea, while turning a critical eye to current events, including the idea of preemptive war, the use of torture, and the unreality of the Bush Doctrine. Fiala warns that pacifism can also become mythological. The Just War Myth challenges the predominant American sentiment that war can be easily justified. It concludes with a call for critical thinking about war, democracy, and the moral responsibility of citizens.
---
What Would Jesus Really Do? The Power and Limits of Jesus's Moral Teachings (2007) examines what Jesus says (and doesn't say) about complicated contemporary ethical issues including abortion, euthanasia, the death penalty, war, homosexuality, economics and the family. Fiala carefully examines Biblical texts with a critical eye, attempting to understand the moral vision of Jesus. The Golden Rule and other humane and peaceful moral principles are considered as good examples of a universal, humane ethics. But Fiala concludes that with regard to many difficult moral conflicts of contemporary concern we simply do not know what Jesus would really do.
---
Tolerance And The Ethical Life (2005) is a sustained consideration of the importance of tolerance in moral life. Fiala shows the importance of tolerance in a variety of moral and political theories and philosophies. Fiala considers tolerance in the thinking of Socrates, Stoicism, Pragmatism, Existentialism, and in contemporary liberalism. The book considers how tolerance connects with the practice of philosophy. The book offers a unique historical exploration of tolerance and its application of those results to present-day moral theory. It concludes that we need more and better tolerance.
---
Written as wars were breaking out in Afghanistan and Iraq, Practical Pacifism (2004) articulates a version of skeptical pacifism that is based in a critical analysis of war and justifications of war. Fiala recognizes that the United States has a unique responsibility and opportunity to use democracy to end war. After 9/11 it is difficult to imagine pacifism in any form. Absolute pacifism is difficult to sustain. But Practical Pacifism argues for an approach to peace that aims beyond religiously based absolute pacifism toward a moral consensus that is developed pragmatically through dialogue aimed at overlapping consensus.
---
The Philosopher's Voice: Philosophy, Politics, and Language in the 19th Century (2002) provides a history of 19th Century Philosophy that is specifically focused on the role of the philosopher in the world. The book provides extensive consideration of political philosophy as found in Kant, Fichte, Hegel, and Marx. This analysis of the relationship between philosophy and politics recognizes that political philosophers must continually struggle to distinguish their voices from others that clamor within political life. Fiala asks whether it is possible to maintain a distinction between philosophical speech and other political and poetic language.